EL MESON RESTAURANT
Spanish & Latin American Cuisine
Wine Spectator
Best of Award of Excellence 2020
OPEN 11:30 am - 9:00 pm
Monday through Thursday
OPEN 11:30 am - 9:30 pm
Friday and Saturday
OPEN 12:00 pm - 9:00 pm
Sunday
WINE WEDNESDAY EVENTS
Join Sommelier Jessica Garcia Wednesday evenings for a delightfully entertaining time enjoying great food and fine wine while sharing a discussion with our guests on a virtual platform. Click on the images for further details.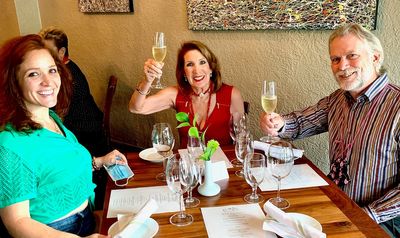 Wine Dinner BENEFITTING MILDRED'S UMBRELLA
Call (713) 522-9306 to RSVP
Wednesday, September 15, 2021 at 7:00pm
$125 per person (paid in advance, non-refundable)
The proceeds will go towards the production of the Regional Premiere of El HURACÁN, written by Charise Castro Smith. Directed by Associate Artistic Director Patricia Duran and featuring an all-Latinx cast and crew. Showtime Dates: November 11-21, 2021

For Tickets & More Info Visit: https://mildredsumbrella.com/

Call El Meson and say you want to be part of the Mildred's Umbrella Dinner to secure a spot at the table. Phone: (713) 522-9306
Menu
1st Course
Poached Sea Scallop and Mushroom with Judion White Bean Coulis
2019 Aniello, Blend De Suelos, Blanco de Pinot Noir, Rio Negro-Patagonia
2nd Course
Lentil and Leek Soup with Black Truffle
2020 Domaine de Reuilly, Pinot Gris Rosé, Reuilly
3rd Course
Leg of rabbit "Zamorano," with Pomme Frites
2000 Pedro B Urbina, Selección, Rioja
4th Course
Wild Boar Chop, fig and almond risotto
2017 Di Arcanum, Il Fauno, Toscana IGT
5th Course
Beef tenderloin, raspberry port wine reduction
2015 Justin, Isosceles, Paso Robles
Dessert
Tres Leches
Madeira Rare Wine Co. Historic Series, New York Malmsey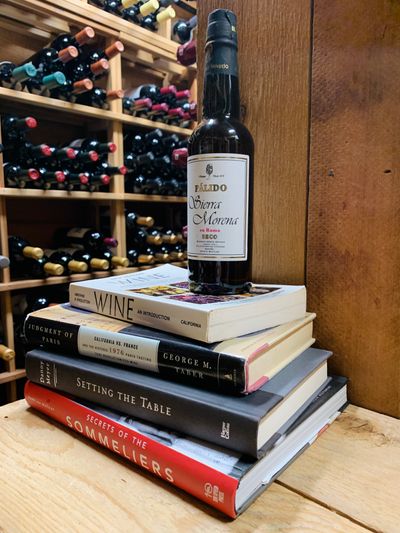 El Meson Wine and Book Fair
SHOP RARE CELLAR WINE TO FUN EVERYDAY DRINKING WINE
& BOOKS from Jessica Garcia's own collection
Sunday, Sept 19th at 12pm-4pm, HAVANA ROOM
Stop by El Meson Restaurant after
Rice Village Farmer's Market
and pick up a book and a bottle of wine.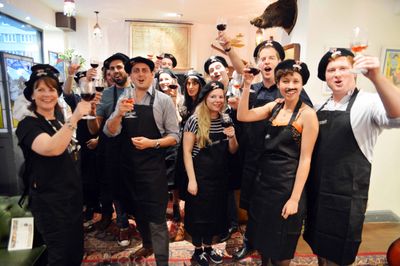 Click on image to RSVP online or call (713) 522-9306
Thursday, October 7th 2021 at 7:00PM
$100 + + per person
Join us for a Wine Dinner Event featuring Bodegas Beronia and Sherry belonging to the Gonzales Byass Family. The Event is an homage to the Basque tradition of the 'Txoko' Dinner Society. Claire Henderson will be joining our dinner to tell us more about this unique tradition and all about the wines.
MENU
Sherry Reception
Jamon Iberico and Olives at the bar
Tio Pepe Fino En Rama
First Course
"Gazpacho Verde"
Watercress Chilled Soup with Lump Crabmeat
2018 Beronia Verdejo
Second Course
"Chipirones nn Su Tinta"
Stuffed Baby Calamare with Cuttlefish Ink Sauce
2017 Beronia Crianza
Third Course
"Paella de la Huerta"
Saffron Infused Bomba Rice with Rabbit
2016 Beronia Reserva
Fourth Course
"Faisan Alcantara"
Pheasant and Foie Gras with Tawny Port Sauce
2011 Beronia Gran Reserva
Fifth Course
"Fabada Asturiana"
Asturian Fava Beans with Blood Sausage
2015 Beronia III a.C.
Dessert
Sommelier Selections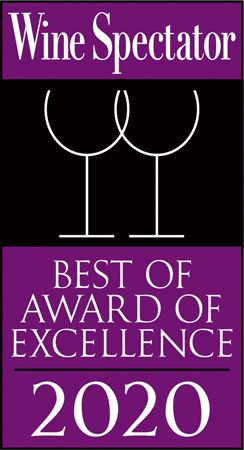 The Garcia family is deeply honored to receive this recognition.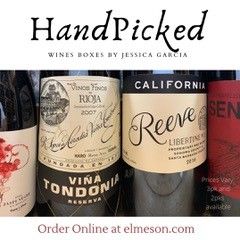 Click on the image to sign up
.
"Handpicked" Wine Box
A Wine box curated by Certified Sommelier, Jessica Garcia. Hand picked just for you - according to your taste. Each box contains 3 wines. Want a 2 bottle pack? Specify below in the notes.